Drew Pasteur's Ohio Fantastic 50
Ohio High School Football Rankings and Predictions
Follow the Fantastic 50 on Twitter for the latest updates.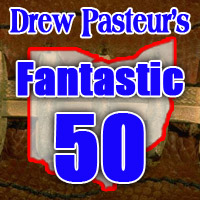 Weekly info from Drew
Although now up and running again, the site will remain under construction for the next few weeks. Please let me know about issues that you encounter, in addition to score/schedule corrections, as usual. I am excited to add team pages for the first time, and more new content is coming soon.
Fantastic 50 rankings
Picks for week #1
Links to divisions, regions, and teams
Useful links
Joe Eitel
- unofficial Harbin playoff points, schedules, and scores
Bruce Monnin
- unofficial Harbin points for selected regions
OHSAA Football
- official info from the state association